I recently wrote an article on 7 fruit ice cream recipes which was really popular so I decided to stay with the fruit theme for today's recipe.
In Melbourne at the moment, it's not exactly warm. But that doesn't mean a summer dessert like raspberry sorbet is off the table. Sure, a large punnet of raspberries will cost you a small fortune out of season but that doesn't need to stop you. Simply take a walk down the freezer aisle and get yourself a bag of frozen raspberries. It's not quite the same as fresh fruit, but you'll still get a really good sorbet from this recipe.
Raspberry Sorbet Tips
If your budget allows, use fresh raspberries.
Don't stray too far from the recipe or you'll end up with an icy sorbet that no-one will enjoy.
Cool your sorbet base thoroughly before churning.
This sorbet is delicious served on its own in a dessert plate or on a waffle cone.
How to make raspberry sorbet without an ice cream machine
Instead of adding your mixture to a machine, you can add it to a container and place it in the freezer. After half an hour, remove and whip with a whisk or beater. Then continue freezing. Repeat this step two more times every half hour.
When you remove your sorbet to whip it up, it's important you work fast so that it doesn't have time to melt.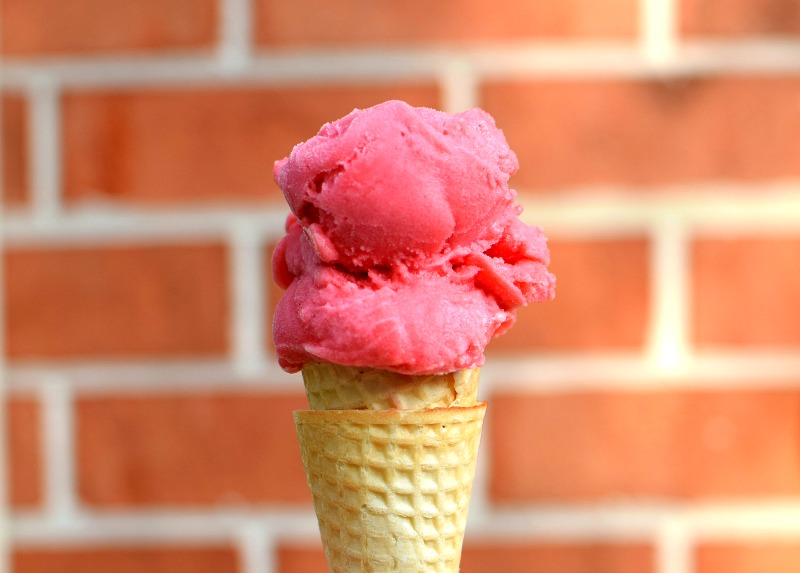 Ingredients
1

cup

sugar

1

cup

water

1

Tbsp

lemon juice

500

gm

fresh raspberries

17 1/2 oz
Instructions
Add the water and sugar to a medium saucepan and stir on a low heat until dissolved. Continue to cook for a little longer (around 60 seconds).

Pour the sugar syrup into a large bowl and add the squeezed lemon juice.

Blend the raspberries in a food processor then pass through a fine strainer to get rid of the pips.

Combine the raspberries and sugar syrup then add to the fridge for at least 3 hours to cool.

Add to ice cream machine and churn as per manufacturer's instructions.

Scoop into an airtight container and freeze until hardened (3 hours).