Review Of Haagen-Dazs Mango and Raspberry Ice Cream
Haagen-Dazs is known for making excellent ice cream, but does it meet the hype?
This review looks at the Haagen-Dazs Mango and Raspberry Ice Cream 457ml. I'll look at its taste and texture, then compare the competition to see if it's worth the price.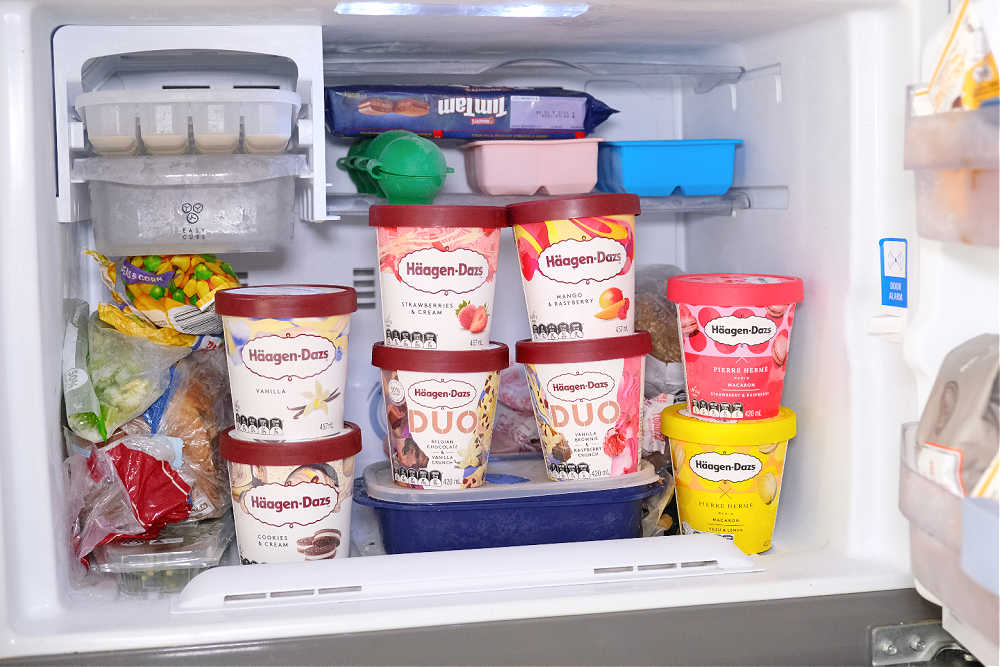 Quick overview
Haagen-Dazs Mango and Raspberry Ice Cream sits in the super-premium section of supermarket ice cream freezers.
While it competes with other big names like Ben and Jerry's, the brand faces competition from local gourmet ice cream producers.
Produced in France, Haagen-Dazs is intensely focused on using the best ingredients. While this is a claim than marketers love throwing around, in this case it's accurate.
Is this tub any good?
Haagen-Dazs Mango and Raspberry ice cream is vibrant, fruity, and full of flavour. Creamy dairy combines with mango puree to make a lovely yellowish ice cream base. Like most tubs in this range, its texture is creamy, smooth, and deliciously dense.
Ribbons of tart raspberry are scattered through the frozen dessert. The add-in makes for a nice-looking dessert and is balanced well with the mango ice cream. It's a fresh-tasting summertime treat that I'd happily eat any time of year.
The texture of Haagen-Dazs Mango and Raspberry Ice Cream is exceptionally creamy and soft. Each tub contains an impressive 39% fresh cream, exceeding most competing brands.
Anyone looking for premium fruit ice cream will appreciate this tub.
A delicious mix of creamy mango and raspberry swirl.
High milkfat results in a smooth, super-premium texture.
A clean ingredients label, like a homemade recipe.
Consumers will pay for the privilege of this pint.
Are there better alternatives for the money?
I scoured the supermarket shelves for an alternative to Haagen-Dazs Mango and Raspberry Ice Cream, but there were no similar products. The closest is the Connoisseur Ice Cream Raspberry White Chocolate 1L.
Interesting reading: Also check out my review of Haagen-Dazs Vanilla ice cream.
Ingredients
Almost all ice cream manufacturers add stabilisers and preservatives to their products. That's what makes this mango and raspberry ice cream different – it's got no extra junk.
The main ingredients include real cream, milk, sugar, mango puree, and raspberry puree. In contrast, less expensive brands often have higher water content and use cheap dairy replacements.
Comparison of milk fat by brand
Milkfat is a signal of better mouthfeel and creaminess. A high proportion of cream in Haagen-Dazs ice cream sets it apart from its competition, as you can see below.
Ingredients list: Fresh cream (31%), condensed skimmed milk, sugar, mango puree (12%), raspberry puree (5%), egg yolk, blackberry puree, concentrated orange juice, concentrated lemon juice, gelling agent (pectin), natural flavours.
Nutrition information
No ice cream is good for you, so eat it in moderation. Haagen-Dazs Mango and Raspberry Ice Cream has 8.2g of saturated fat per 100g and 26.7g of sugar.
Servings per package: 5
Serving size: 79g
Nutrition table
| | | |
| --- | --- | --- |
| | Quantity per Serving | Quantity per 100g |
| Energy | 817kJ | 1030kJ |
| Protein | 2.7g | 3.4g |
| Fat, Total | 10.6g | 13.4g |
| -Saturated | 6.4g | 8.2g |
| Carbohydrates | 22.2g | 28.1g |
| -Sugars | 21.1g | 26.7g |
| Dietary Fibre | 0.5g | 0.6g |
| Sodium | 45mg | 57mg |
Pros
Supreme ice cream with a creamy, dense texture.
A fresh, summery flavour profile that most will love.
Made using natural ingredients without additives.
Cons
The tubs are too small for families.
Expensive.
Not Australian-made.
What other flavours are available in the Haagen-Dazs range?
Haagen-Dazs has a wide range of pints and multipacks. Some of the range includes:
Pralines and Cream
Vanilla
Cookies and Cream
Dulce de Leche
Macaron Yuzu and Lemon
Macaron Strawberry and Raspberry
Caramel Biscuit and Cream
Strawberries and Cream
Belgian Chocolate
Caramel Brownie
Salted Caramel
About the manufacturer
Haagen-Dazs is an internationally renowned premium ice cream brand that originated in the United States. Founded by Reuben and Rose Mattus in 1961, the brand gained popularity by producing high-quality ice cream using quality ingredients.
Contrary to popular belief, the name "Haagen-Dazs" is not of European origin. Its founders created it to evoke an aura of craftsmanship and European quality.