Review Of Haagen-Dazs Strawberries And Cream Ice Cream
Haagen-Dazs is known for making exceptional frozen desserts, but is it deserving? This review looks at their Strawberries and Cream Ice Cream 457ml. I test its taste, consistency, and how it stacks up against the rivals.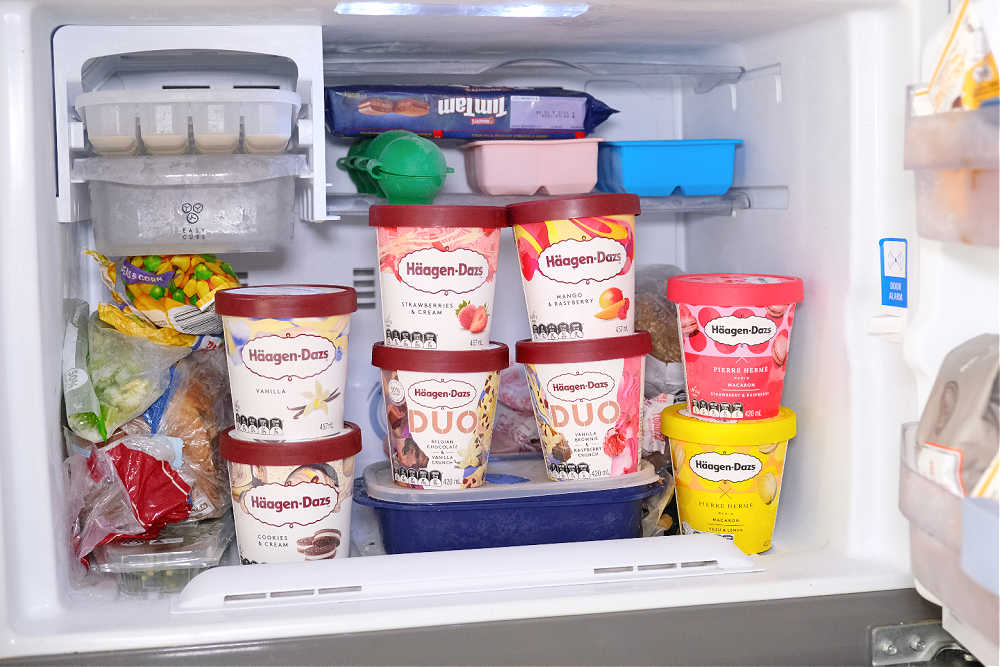 Quick overview
Haagen-Dazs Strawberries and Cream Ice Cream positions itself in the super-premium category in supermarkets. Competing with giants like Ben & Jerry's, Haagen-Dazs also faces competition from local artisanal ice cream creators.
Made in France, the company prides itself on simple, natural ingredients. While consumers think the company's name comes from a European country, it's fictional. Dreamed up in the Bronx, New York, the founders say it means "The finest ice cream that money can buy."
Is this tub any good?
Haagen-Dazs Strawberries and Cream Ice Cream is an excellent tub of ice cream. An impossibly short ingredients list signals a high-quality product free from unwanted fillers and stabilisers.
The majority of ingredients in this pint are real strawberries and cream, which no other manufacturer comes close to. It gives the product a delicious taste and texture that you'd expect from a fresh bowl of homemade ice cream.
The addition of 35% fresh cream gives the dessert a soft, creamy texture. It's dense and slightly chewy to the bite, a feature of the best ice creams you can buy.
Strawberries make up an impressive 21% of the pack. That's more than any other nationwide brand sold in Australia. But this comes with a downside. Berries become hard and icy once frozen, which isn't ideal. They've tried to solve this by chopping the strawberries into small pieces.
With stabilizing ingredients like guar gum and carrageenan left out, this ice cream has a natural taste. I was surprised it didn't melt too quickly. However, it will melt faster than any other tub of ice cream sold in stores.
Softened ice cream re-freezes with an icy texture, so scoop what you need and return it to the freezer fast.
Haagen-Dazs is undoubtedly the best option for strawberries and cream ice cream sold in Australia's big supermarkets. But it comes at a hefty price, so it will appeal to consumers who don't have a constraining shopping budget. Consumers looking for products with a clean ingredients label will also appreciate this product.
High milkfat results in a smooth, super-premium texture.
Fresh, fruity taste thanks to the addition of fresh strawberries.
A clean ingredients label, like homemade recipes.
Consumers will pay for the privilege of this pint.
Also read: Review of Haagen-Dazs Vanilla or their Mango and Raspberry.
Are there better alternatives for the money?
I enjoyed every mouthful of this tub, but this luxury comes at a price. So, what are some wallet-friendly alternatives for those who can't justify the expense?
Ben & Jerry's: While Ben & Jerry's makes strawberries and cream for their scoop shops, there is no supermarket product.
Bulla Murray St Strawberries and Cream 1L: This option has only 2% strawberries, so natural colours and flavours step in to dial up the strawberry. At less than half the price, this tub tastes delicious.
Sara Lee Strawberries & Cream 1L: A cheaper brand containing less dairy and 11% strawberries.
Connoisseur Camarosa Strawberry 1L: An ice cream containing 4.5% Camarosa Strawberries.
Comparison pricing of some popular Strawberries and Cream ice creams:
| | |
| --- | --- |
| Brand | Price/100ml |
| Haagen-Dazs Strawberries and Cream 457ml | $2.95 |
| Bulla Murray St Ice Creamery Strawberries and Cream 1L | $1.20 |
| Connoisseur Camarosa Strawberry 1L | $1.20 |
| Sara Lee Strawberries & Cream 1L | $1.20 |
Ingredients
Finding a manufacturer that doesn't add extras like preservatives, stabilisers, and flavour additives is tricky. That's what makes this ice cream so special.
Haagen-Dazs uses mostly real cream, milk, strawberries, eggs, and sugar. In contrast, cheaper brands often have higher water content and use inexpensive dairy replacements. The product contains a whopping 35% fresh cream, higher than competing brands.
Ingredients list: Fresh Cream (35%), Condensed Skim Milk, Strawberries (21%), Sugar, Egg, Yolk, Water.
Cheaper makers of strawberries and cream typically turn the fruit into a sauce. This reduces ingredient costs by introducing additional water and emulsifiers.
Comparison of milk fat by brand
Milkfat is a signal of better mouthfeel and creaminess. A high proportion of cream in Haagen-Dazs ice cream sets it apart from its competition, as you can see below.
| | |
| --- | --- |
| Brand | Milk fat |
| Haagen-Dazs Strawberries and Cream | 16% |
| Connoisseur Classic Camarosa Strawberry | 13.5% |
| Sara Lee Strawberries & Cream | 13% |
| Murray St Ice Creamery Strawberries and Cream | 12% |
Nutrition information
No ice cream is good for you, so eat it in moderation. Haagen-Dazs Strawberries and Cream Ice Cream has 10.0g of saturated fat per 100g and 21.8g of sugar.
Servings per package: 5
Serving size: 79g
Nutrition table
| | | |
| --- | --- | --- |
| | Quantity per Serving | Quantity per 100g |
| Energy | 794kJ | 998kJ |
| Protein | 3.2g | 4.0g |
| Fat, Total | 11.9g | 15.0g |
| -Saturated | 8.0g | 10.0g |
| Carbohydrates | 17.4g | 21.9g |
| -Sugars | 17.4g | 21.8g |
| Dietary Fibre | 0.20g | 0.20g |
| Sodium | 48mg | 60mg |
Nutritional comparison of competing products
| | | |
| --- | --- | --- |
| ­ | Saturated fat/100g | Sugar/100g |
| Haagen-Dazs Strawberries and Cream | 10.0g | 21.8 |
| Murray St Ice Creamery Strawberries and Cream | 8.1g | 21.9g |
| Connoisseur Camarosa Strawberry | 7.8g | 23.7g |
| Sara Lee Strawberries & Cream | 6.3g | 24.1g |
Pros
Exceptional ice cream with a super creamy texture.
More strawberries than any other brand in supermarkets.
Made using natural ingredients without unwanted additives.
Easy to find in most supermarket freezers.
Cons
The strawberries are a little icy.
Expensive.
Not Australian-made.
Is Haagen-Dazs or Ben and Jerry's ice cream the best?
Both brands are super-premium pints with a long-established history of making quality ice cream. Ben and Jerry's is best known for its innovative flavours and mix-ins; Haagen-Dazs offers more straightforward, traditional flavours focusing on providing the best ingredients.
What other flavours are available in the Haagen-Dazs range?
Haagen-Dazs has a wide range of pints and multipacks. Some of the range includes:
Pralines & Cream
Vanilla
Cookies and Cream
Dulce de Leche
Caramel Biscuit and Cream
Mango and Raspberry
Macaron Strawberry, and Raspberry
Macaron Yuzu and Lemon
Belgian Chocolate
Caramel Brownie
Salted Caramel
About the manufacturer
Haagen-Dazs is a globally recognized premium ice cream label from the United States. Established by Reuben and Rose Mattus in 1961, the brand earned its reputation crafting artisan-style ice cream with superior ingredients.
Despite common misconceptions, the name "Haagen-Dazs" isn't derived from any European language. Instead, the founders made it up to convey a quality product.
You can learn more about the reviewed product here.