Review Of Murray Street Ice Creamery's Vanilla Bean Ice Cream
The Australian ice cream scene enjoys an ever-increasing variety of brands. Are you wondering how the Murray Street Creamery Vanilla Bean Ice Cream stacks up?
Join me on this flavour journey to discover if it's a triumph or simply fades into the assortment.
Quick overview
Murray Street Ice Creamery Vanilla Bean is a top-tier product in grocery stores throughout Australia. Manufactured by Bulla, it's one of six variants in their one-litre tub collection.
Considering its pricing, this ice cream is positioned as a premium contender, vying against brands like Connoisseur. Yet, it remains more wallet-friendly than super-premium labels such as Ben & Jerry's and Haagen-Dazs.
Bulla describes these tubs as their "creamiest premiumest" ice cream. The packaging is a one-litre tub featuring a timeless, retro design.
Is Murray Street Vanilla Bean Ice Cream any good?
Murray St Ice Creamery Vanilla Bean is a decent ice cream. While it's not the best store-bought product I've tasted, it was above average.
A creamy base is made from fresh milk and cream. The resulting mouthfeel is smooth and velvety, melting effortlessly on the tongue. Free-range egg yolks add richness and give the ice cream a dense texture that you won't get from the super-economy tubs.
It will appeal to people wanting a premium vanilla ice cream.
The 1L tub is cheaper than the super-premium ice creams like Haagen-Dazs.
Ideal for lovers of indulgent ice cream or for entertaining.
Probably wasted money for budget-conscious families with kids.
It won a Bronze Medal at the Sydney Royal Cheese & Dairy Competition in 2020, a competitive event with plenty of entries. Getting placed is a decisive vote of approval from experts who know their ice cream.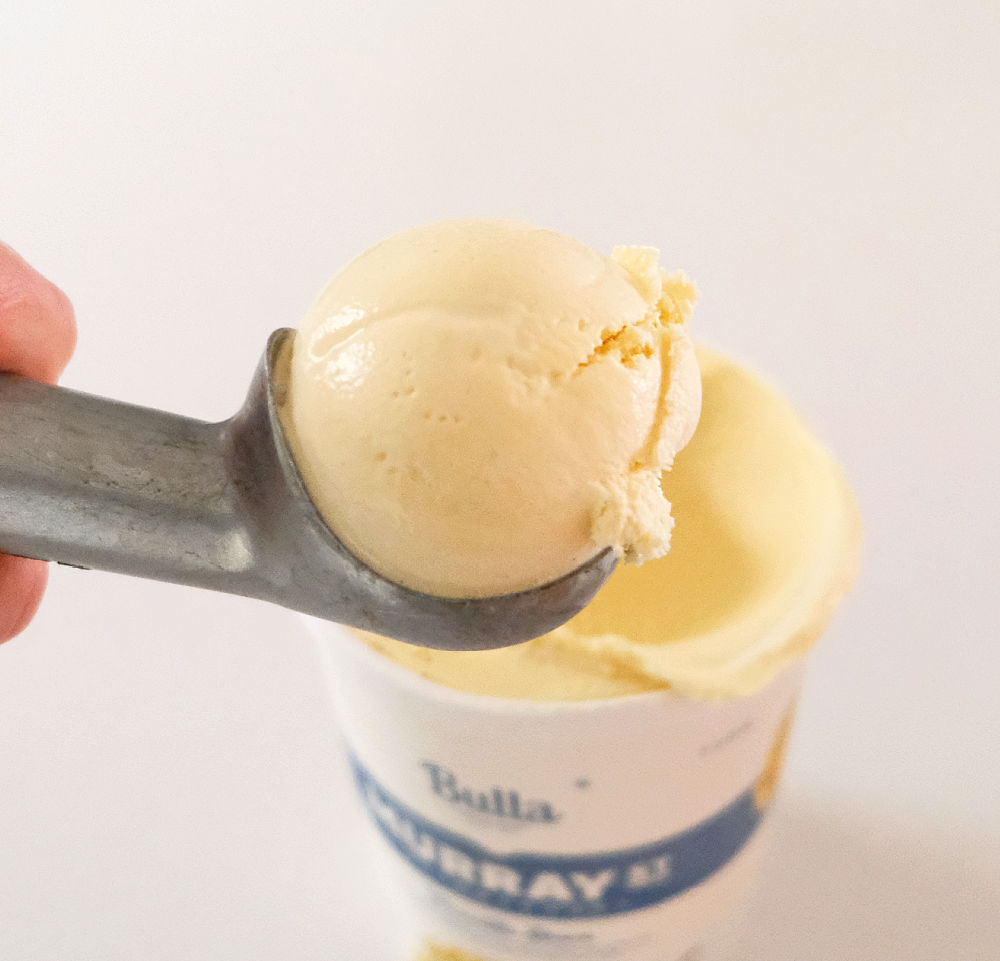 Is it worth the money?
Although I enjoyed the Murray Street Vanilla Bean Ice Cream, there are better options currently in Australian supermarkets. At $12 for a one-litre tub, my expectations were high. Unfortunately, it doesn't quite hit the mark.
Cheaper alternatives will keep most dessert lovers just as satisfied. Examples include the Much Moore or Coles Irresistible Vanilla Bean 1L tubs. At a little over half the price, these alternatives are hard to stop eating. They also both have visible flecks of vanilla bean, which you'd expect to see if they are used in the recipe.
For a premium product like Murray St, I'd also like to see more about the ingredients. For example, where were the vanilla beans grown? Are they ethically sourced from Madagascar?
Flavour
Murray St. Vanilla Bean is a pleasant craft-style ice cream that most will enjoy. It is soft and creamy without too much sweetness. This is the type of frozen dessert you can keep eating and eating, so beware.
Fresh milk, cream, and free-range egg yolk give the ice cream an indulgent, rich flavour. The vanilla flavour isn't too punchy and will appeal to the masses.
The ice cream boasted a top-notch texture akin to what you'd expect from a premium brand. It is velvety and dense and scoops effortlessly.
What other flavours are available in the Murray Street range?
Flavour options vary depending on the country, but you'll find the following additional products in Australian stores:
Strawberries and Cream.
Honey and Salted Caramel Peanut.
Ingredients
The Murray Street Ice Cream collection is crafted in Australia, using local cream, milk, and free-range egg yolks. 25% of this frozen treat is comprised of milk and cream, delivering a richer and more luxurious flavour.
In contrast, less expensive brands often have higher water content, use reconstituted skim milk, and rely on other economical ingredients.
Ingredients list: Fresh milk, fresh cream (milk) (25%), sugar, water, milk solids, dextrose, vanilla bean extract & seeds (1%), egg yolk, emulsifier (471), thickeners (guar gum, carrageenan), caramelised sugar, natural flavours, natural colour (lutein).
Milk fat
Milk fat is essential for enhancing the pleasure we get from ice cream. It acts as a lubricant for the palate, giving ice cream a silky-smooth texture.
Murray St Vanilla Bean Ice Cream boasts 12% milk fat content. This is notably higher than more economical ice creams, such as Peters Original, with a 4% milk fat content.
However, it falls short compared to upscale brands like Haagen-Dazs. It produces a vanilla ice cream containing 39% cream, translating to a mouth-wateringly delicious 16% milk fat.
Connoisseur is a comparable product to the Murray St offering. Formulated with 34% cream, it yields a 13.5% milk fat content.
Nutrition information
No ice cream is good for you, so eat it in moderation. Murray St. Vanilla Bean Ice Cream has 8.3g of saturated fat per 100g and 21.7g of sugar.
Servings per package: 10
Serving size: 68g
Nutrition table
| | | |
| --- | --- | --- |
| | Quantity per Serving | Quantity per 100g |
| Energy | 599kJ | 881kJ |
| Protein | 2.0g | 2.9g |
| Fat, Total | 8.4g | 12.4g |
| -Saturated | 5.7g | 8.3g |
| Carbohydrates | 14.9g | 21.8g |
| -Sugars | 14.8g | 21.7g |
| Dietary Fibre | – | – |
| Sodium | 31.0mg | 46.0g |
Comparison of competing products
| | | |
| --- | --- | --- |
| | Saturated fat/100g | Sugar/100g |
| Murray St. Vanilla Bean Ice Cream | 8.3g | 21.7g |
| Much Moore Vanilla Bean Ice Cream | 8.4g | 20.5g |
| Connoisseur Gourmet Classic Vanilla Ice Cream | 9.2g | 20.3g |
| Haagen-Dazs Vanilla Ice Cream | 11.3g | 19.9g |
Pros
Luxurious ice cream with an exquisite taste.
Balanced flavour profile that is moderately sweet.
Proudly made in Australia using fresh Aussie milk, cream, and eggs.
Cons
Priced on the higher side.
Some might lean towards a lighter texture.
Could be more transparent about ingredient sourcing.
My uses for this ice cream
About the manufacturer
The Murray Street Ice Creamery brand offers premium ice cream products in Australia and internationally.
This brand falls under the umbrella of Bulla, an iconic Australian food manufacturer that has been crafting ice cream since 1929. Its production site is located on the main street of Colac, Victoria.