Zyliss Ice Cream Scoop Review [2023]
This is my review of the award-winning Zyliss Ice Cream Scoop which is available from Amazon. I've nicknamed mine "the beast" – that's a good thing! Read on to find out what I like about this scoop and if it's the right tool for your kitchen.
Introduction
There's something really satisfying about stumbling onto a kitchen appliance or tool that is pure quality in design. They need to not only look sexy and sleek but also need to be functional. A great kitchen tool needs to get the job done with minimal fuss.
That's what I love about this Zyliss scoop. It looks great in the kitchen, but more importantly, it's made from really solid materials. The end result: you can scoop even the hardest of ice cream much easier than any other scoop I've tried. The handle is ergonomically designed to fit comfortably in your hand with the weight well distributed throughout the scoop.
The shape of the scoop allows you to roll lovely balls of ice cream that look impressive on the plate. If visual appearance is important in your desserts, this is a good option.
Zyliss Ice Cream Scoop: The Basics
When you first start scooping ice cream the first thing you may notice is that the ergonomic handle is insulated. This means your hands are protected from the cold temperature of the scoop. Rejoice! The handle is also UV protected which prevents it from yellowing over time.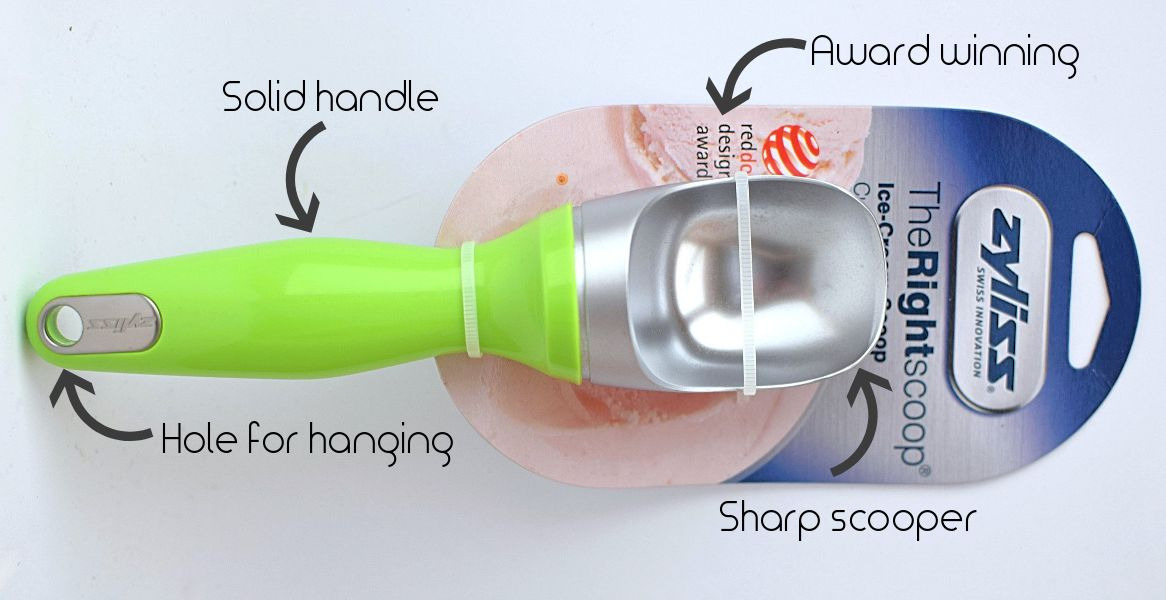 Important Features
Thumb rest for added comfort
Anti-slip handle design
Sharp scooper
5-year guarantee
Solid construction
Dishwasher safe
Available in multiple colors
A handy hole for hanging
What's to love about the Zyliss?
I know, it's just an ice cream scoop but there's still a lot to love about this tool. There's nothing worse than a scoop that bends, breaks or simply doesn't do a good job of scooping. This scoop can be relied on to get the job done – that's why I affectionately refer to it as "the beast".
So what is so good about this Zyliss? Let's start by looking at the durability of this scoop.
1. Durability
Durability, toughness, "unbreakability". Call it what you like – this scoop excels in this area. Probably the biggest strength of the Zyliss ice cream scoop is that it's ultra solid. It won't be broken.
You know you've got a weapon of destruction in your hand as soon as you pick it up. Its weight is evenly proportioned throughout the handle and scooper so there's no weak point.
Let's do a quick weight comparison…
A standard ice cream scoop weighs around 88 grams (3 oz).
My go-to dipper ice cream scoop weighs in at 142 grams (5 oz).
This is a solid scoop and is significantly heavier than the scoop I mentioned above.
Whoah! The Zyliss is 240 grams (8 1/2 oz) which is heavy.
If you're going to be doing a lot of scooping – say for a charity event or for work, this may not be the scoop for you. It will kill. But for all the rest of us, this scoop is a good choice. It will make easy work of even the nastiest, hard, icy ice cream.
Remember to put the scoop in a cup of hot water first.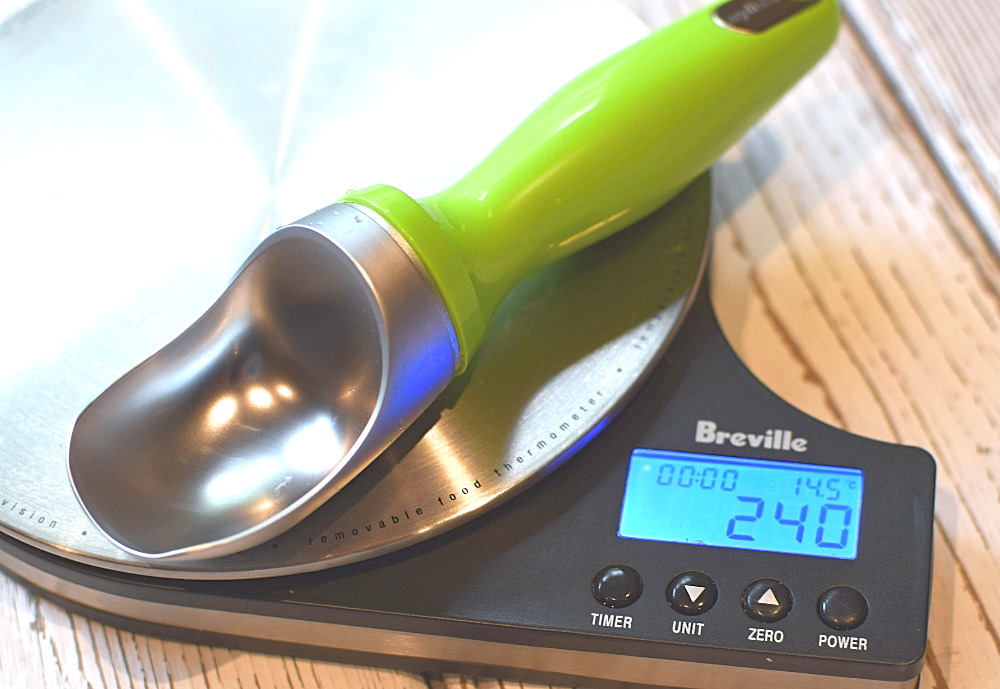 Summary of weight comparison

2. Design
You've got to love a sharp ended scoop. This edge, when combined with the heavyweight of the scoop, allows you to carve through even the hardest ice cream as if it were butter.
It's also a very simple scoop without moving parts like the ones with a release mechanism. This not only reduces the chances of it breaking, but it also means washing up is really quick. You'll appreciate this feature if you eat ice cream frequently.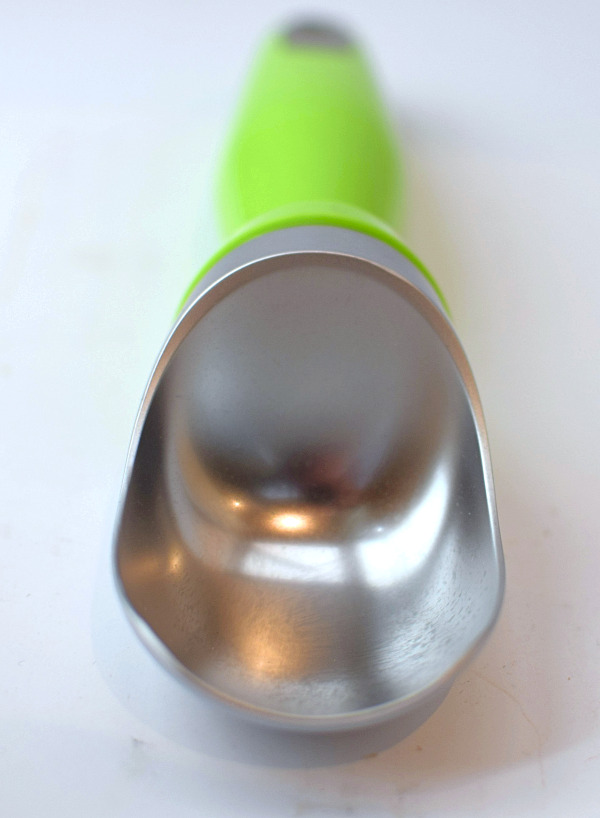 3. Aesthetics
It really is a stylish looking scoop. The shape, color, and materials used. Everything screams out quality. I love this green option but it's also available in a range of other lovely bright colors.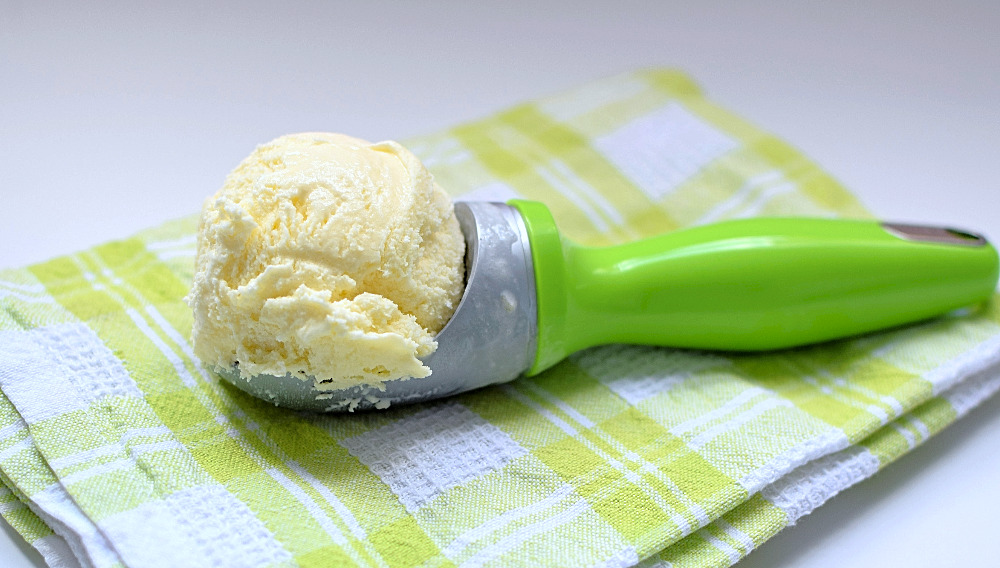 About the company that makes this scoop
Zyliss has a long history of designing premium quality, high-end kitchen tools. They started out in Switzerland over 50 years ago and are now a UK based company. Around the world, Zyliss is a popular brand used by gourmet chefs as well as everyday home cooks.
They were also the winner of the prestigious Red Dot Design Award 2003.
Overall rating for the Zyliss Ice Cream Scoop
I think it's clear by now that I'm a big fan of this product. For me, it ticks all the boxes. Making ice cream almost daily has allowed me to try out a huge number of scoops. I think the Zyliss ice cream scoop is up there with the best thanks to its solid construction, its ability to scoop even the hardest ice cream, and its sleek design.

The Zyliss Ice Cream Scoop gets a score 9/10 and the only reason I didn't give it full marks was that some may find the weight a little too heavy for their liking. If you need a solid ice cream scoop then look no further than this product.