Review Of Haagen-Dazs Macaron Yuzu And Lemon Ice Cream
Haagen-Dazs Macaron Yuzu and Lemon Ice Cream sits on Aussie supermarket shelves in the super-premium section. It competes with brands like Ben & Jerry's, Connoisseur, and Murray Street Ice Creamery.
The Macaron Range is a collaboration between Haagen-Dazs and Pierre Hermé, both high-end food brands. This review looks at their Macaron Yuzu and Lemon Ice Cream 420ml tub. I'll help you decide if it's worth the money.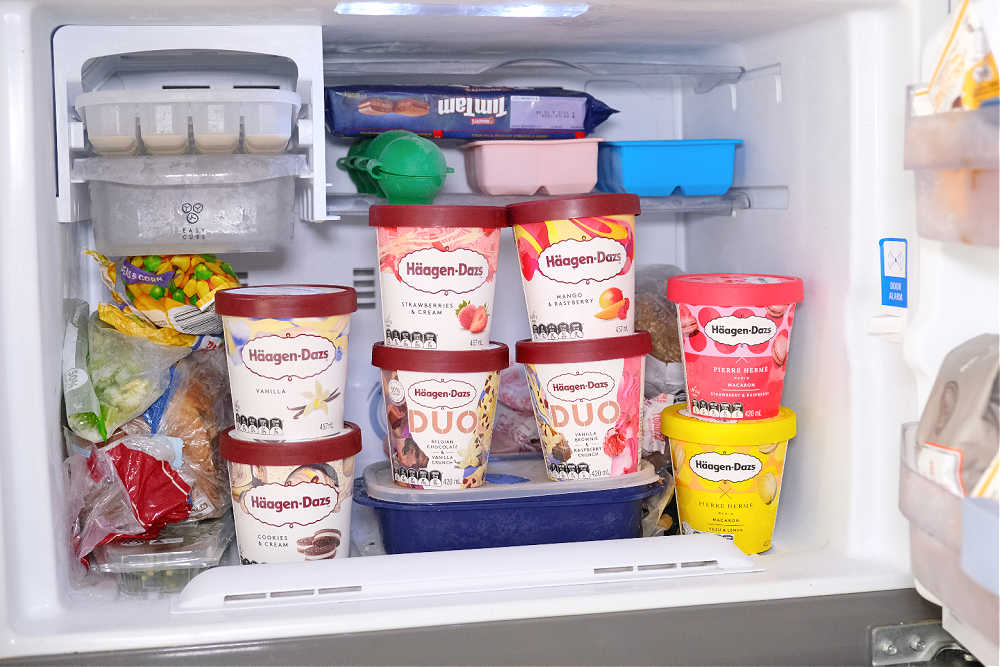 Is this tub any good?
Macaron Yuzu and Lemon Ice Cream is a lemon ice cream with a lemon and yuzu sauce through it. Bits of yellow macaron are buried in the dessert, adding texture and almond flavour.
Like the Macaron Strawberry and Raspberry variant in this range, I found the ice cream very sweet. The yuzu gives a little tang, but it doesn't have that sourness you'd get from some lemon sorbets.
If you love very sweet desserts, then you'll probably like it.
Serve a scoop with fruit like cranberries or rhubarb for some balance.
Haagen-Dazs has mastered the art of making simpler ice cream flavours without too many extras. In this tub, the lemon ice cream base contains 26% fresh cream and 15% milk fat. It's smooth, creamy, indulgent, and delicious.
You're not alone if you're wondering what a yuzu is. Look at the increase in people searching for "what is a yuzu" in Google over the last five years. That big spike is around the launch of this ice cream. Could the two be linked?
A yuzu is a Japanese fruit that's highly aromatic and tastes a cross between a lemon, grapefruit, and orange. Fancy restaurants love using them in a wide range of dishes.
Most consumers will likely think this ice cream just tastes like lemon. I asked a few friends for their opinions, and they agreed. On the positive side, you won't get any unexpected, unpleasant flavours if you buy this product.
Maybe I got unlucky with my tub, but the small pieces of macaron gave the ice cream base a mealy consistency. Instead of hunting for hidden chunks, like you would in a cookies and cream tub, I found myself searching for pockets of that delicious lemon ice cream on its own. If they released this lemon ice cream with ribbons of maple sauce, I'd be all over it.
There are no commercial ice cream flavours like this tub in Australia. That meant competitor comparisons were impossible in this review.
This ice cream leaves out certain ingredients like stabilizing gums. This makes for better-tasting ice cream, which I love about Haagen-Dazs.
Keep in mind that this ice cream melts quicker than other store-bought brands. It develops ice crystals relatively quickly once softened, so scoop out what you need and return it to the freezer as soon as possible.
Related reading: Review of Haagen-Dazs Mango & Raspberry Ice Cream.
Ingredients
Finding supermarket ice cream without extras like stabilisers and preservatives is almost impossible.
That's what makes a tub of this Macaron Yuzu and Lemon Ice Cream stand out. It's primarily real cream, milk, eggs, and sugar.
In contrast, cheaper ice creams have higher water content and use inexpensive dairy replacements.
A container of HD Macaron Yuzu and Lemon contains:
26% fresh cream.
10% macaron pieces.
5% lemon puree.
3% almond flour.
1% yuzu juice.
Ingredients list: Fresh Cream (26%) (Milk), Sugar, Condensed Skim Milk, Water, Lemon Puree (5%), Egg Yolk, Almond Flour (3%), Cocoa Butter, Egg White, Yuzu Juice (1%), Glucose Syrup, Salted Butter (Milk), Rice Starch, Carrot Concentrate, Maize Starch, Gelling Agent (Pectin), Concentrated Lemon Juice.
Nutrition information
No ice cream is good for you, so eat it in moderation. Haagen-Dazs Macaron Yuzu and Lemon Ice Cream has 9.0g of saturated fat per 100g and 26.0g of sugar.
Servings per package: 5
Serving size: 73g
Nutrition table
| | | |
| --- | --- | --- |
| | Quantity per Serving | Quantity per 100g |
| Energy | 810kJ | 1110kJ |
| Protein | 3.0g | 4.1g |
| Fat, Total | 11.3g | 15.5g |
| -Saturated | 6.6g | 9.0g |
| Carbohydrates | 19.9g | 27.3g |
| -Sugars | 19.0g | 26.0g |
| Dietary Fibre | 0.4g | 0.5g |
| Sodium | 41.0mg | 56.0mg |
Pros
A creamy, lemony fruit ice cream base.
Made using fresh dairy, without additives.
A creative flavour that's new to most.
Easy to find in most supermarket freezers.
Cons
A bit on the sweet side.
Macarons detract from the ice cream.
What other flavours are available in the Haagen-Dazs range?
Haagen-Dazs has a wide range of pints and multipacks. Some of the range includes:
Macaron Strawberries and Raspberries
Pralines & Cream
Vanilla
Belgian Chocolate
Dulce de Leche
Caramel Biscuit and Cream
Mango and Raspberry
Strawberries and Cream
Caramel Brownie
Salted Caramel
About the manufacturer
Haagen-Dazs is a renowned ice cream brand founded in 1961 by Reuben and Rose Mattus in New York.
Over the years, the company has expanded its product range to include ice cream, sorbets, and frozen yogurts. Its products sell globally, reflecting its widespread appeal and recognition as a top-tier ice cream producer.
If you enjoyed this article, read my review of HD Vanilla Ice Cream or check out the manufacturer's product page to learn more about this tub.