Cuisinart Ice Cream Maker Recipes
Best Cuisinart Ice Cream Maker Recipes
I recently reviewed the Cusinart ICE-30 ice cream maker. It's a fantastic entry level machine that's perfect for those on a budget seeking top quality ice cream. A low-cost appliance that looks stunning on any kitchen bench top.
If you've decided to invest in this appliance then you're going to need some recipes. I've decided to offer you three recipes that I really enjoyed with this maker. Forget vanilla and chocolate – they taste great but let's get a little adventurous.
Here are my favourite three recipes using the ICE-30. I hope you enjoy them as much as I do.
1. Turmeric ice cream
We'll start with the "out-there" ice cream first. What's the go with this ice cream? Surely an Indian spice has no place in an ice cream? Well, that's what I thought until I gave this forbidden savoury flavour a try as a dessert. I was pleasantly surprised! Add a liberal dose of honey and you have a winning dish.
View Recipe:
www.scoopclub.com.au/tumeric-and-cinnamon-ice-cream-recipe/
2. Raspberry ice cream
Raspberry ice cream bought from the store is great. But try the homemade version and you'll be taken to a whole new dimension. The taste of fresh raspberries is hard to beat. But let's face it, they're not cheap. Luckily raspberries are commonly available in supermarkets frozen. They aren't as tasty as the fresh version – the flavour isn't quite as pronounced. But they're a lot cheaper than the fresh version which is a big bonus!
View Recipe:
www.scoopclub.com.au/raspberry-ice-cream/
3. Mango sorbet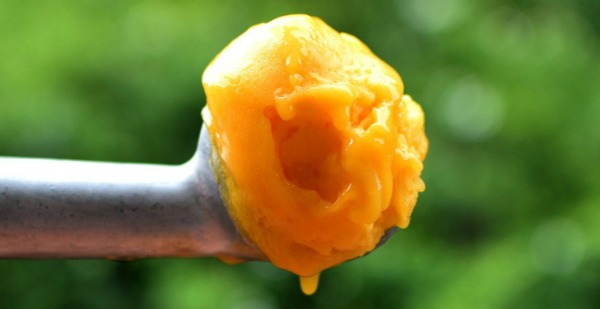 Mangoes. They're good in everything. I challenge you to name a bad dish that features mango.
They make a fantastic ice cream and an even better sorbet. This is a simple recipe that a toddler could make.
Please keep in mind this mango sorbet recipe does require a sizeable amount of mangoes so try to make it when mangoes are in season.
View Recipe:
www.scoopclub.com.au/mango-sorbet-recipe/
So there you have it. Three of the best recipes for the ICE-30. They'd taste great if you made them in almost any ice cream maker; but I know they're good in the ICE-30 because that's what I made them in.
If you've made a beautiful dessert using the Cuisinart I'd love to hear from you. Send me your creation and I'll add it to this website so that others can enjoy it too.