This honey ice cream is perfectly creamy. Honey and caramel combine beautifully, making a unique, sweet dessert. Make this homemade ice cream that kids and adults will love.
If you enjoy honey desserts then also try goat cheese ice cream which has honey as a main ingredient.
How to improve honey ice cream
Check out these ideas to make better ice cream.
Chill the container before adding the churned ice cream. Room temperature containers slightly melt the ice cream, causing ice crystals.
Once you add the ice cream to the container, add a layer of glad wrap to reduce ice crystal formation.
Adjust your freezer to the coldest setting; faster hardening produces the best ice cream.
Consider adding a liquor, like vodka, towards the end of churning. It reduces the ice cream's freezing point and acts as a stabiliser.
To make a denser, creamier ice cream add 2-3 extra egg yolks. Discover why eggs are added to ice cream on this resource page about eggs.
How to make honey ice cream without a machine
If you don't have an ice cream maker, follow these steps:
Instead of adding the ice cream base to an ice cream maker, transfer it straight to the freezer in a container.
When the base starts to harden, remove it from the freezer and whisk until smooth.
Place the dessert back in the freezer and whisk every 20 minutes until hardened.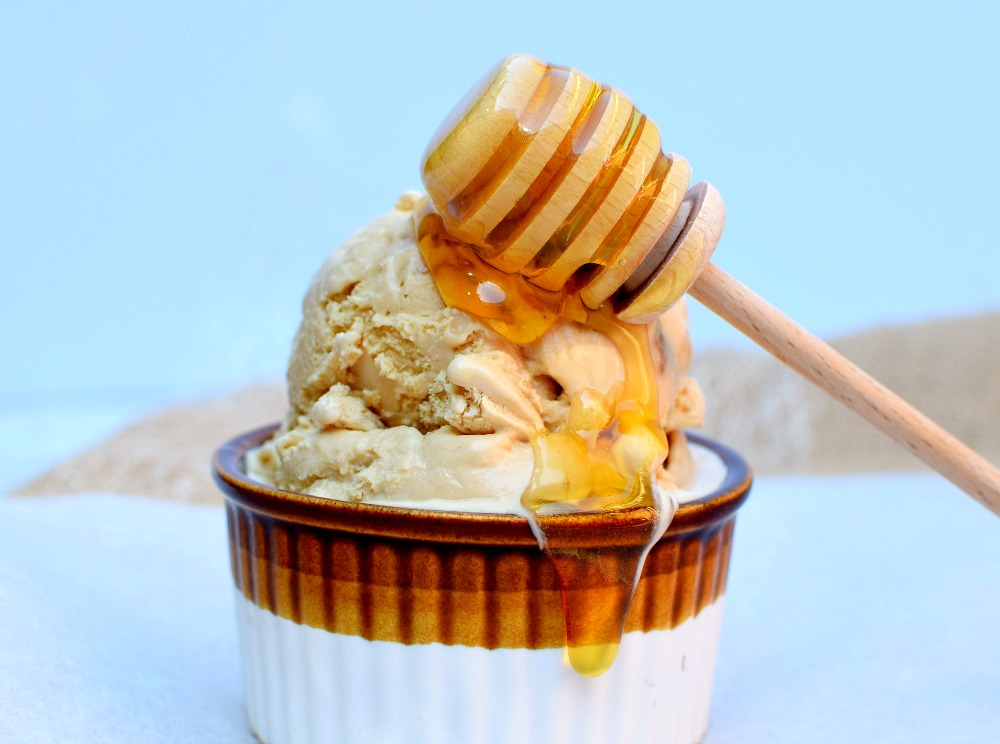 Ingredients
5

egg yolks

1/2

cup

caster sugar

1 1/2

cups

full cream milk

2

cups

thickened cream

1

tsp

vanilla extract

1/2

cup

Nestle Caramel Top'n'Fill

1/3

cup

honey
Instructions
Whisk yolks and sugar until pale.

Heat milk and cream in medium saucepan on high heat until simmering then remove from heat.

Slowly pour a cup of the milk into the yolks while whisking as quickly as possible. Then pour yolks back into the saucepan of milk.

Continue heating mixture on a medium heat until it thickens and coats the back of a spoon then remove from heat.

Stir in the honey, vanilla, and caramel until combined then add to an airtight container and chill in the fridge for at least three hours.

Churn in ice cream machine as per manufacturers instructions then add to an airtight container and freeze for about three hours until hardened.