Strawberry Ice Cream Recipe
This strawberry ice cream recipe results in a deliciously creamy, smooth ice cream.
If strawberries aren't in season in your part of the world, you can use frozen berries. They're not quite as good, but you can still make some great ice cream.
To get more dessert ideas, check out our ice cream recipes page.
How to make strawberry ice cream
Start by taking your fully chilled strawberries and giving them a quick wash, then dry them thoroughly and slice into pieces.
Toss them in a blender until they're reduced to a smooth pulp.
The processed fruit will still contain bits, so strain to get rid of them.
Add the strawberries to a large bowl with the other ingredients and whisk until well combined. Chill the mixture for at least two hours, then churn in your ice cream maker.
Here is the strawberry ice cream churned. Add it it an airtight container then transfer to the freezer. Allow it to harder for at least three hours before serving.
How to make strawberry ice cream with an ice cream maker
If you don't have an ice cream maker, add the ice cream base straight to the freezer. When it's starting to harden, take it out and whisk until nice and smooth, then return to the freezer.
Repeat the whipping step until it becomes too firm to mix. Continue freezing until fully hardened.
Bits of strawberry or smooth?
Some people love fruit pieces in their ice cream, but strawberries have 91% water content. This is a problem for strawberry ice cream. Water turns to ice resulting in icy, flavourless pieces of fruit in your dessert.
It's best to blitz the strawberries. If you must add strawberry pieces, consider chopping them finely the night before and soaking in vodka overnight. This results in a better tasting add-in.
Quick tip: No matter what option you choose, it's a good idea to also add some skim milk powder. This is excellent for encouraging a creamier ice cream texture.
Here is the finished hardened ice cream ready to eat.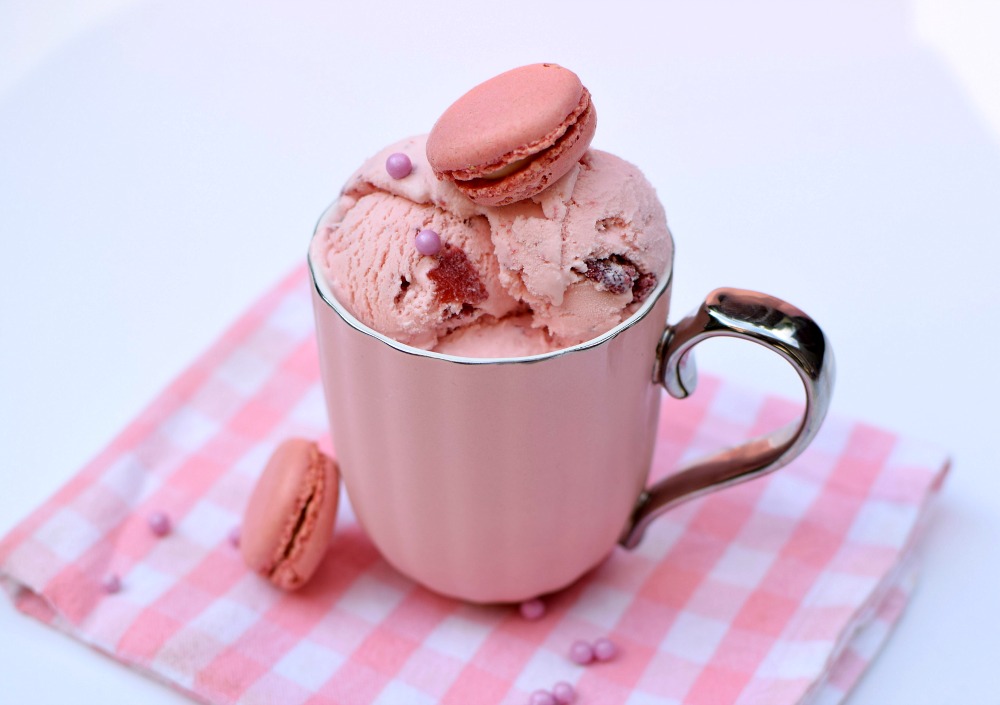 Strawberry Ice Cream Recipe
Turn your fresh strawberries into a deliciously creamy, strawberry ice cream.
Print
Pin
Rate
Ingredients
500

gm

strawberries

1

cup

caster sugar

2

cups

thickened cream

1

cup

full cream milk

1

Tbsp

skim milk powder

1

pinch

Salt

1

Tbsp

lemon juice
Instructions
Hull strawberries and then blend until a smooth pulp then strain to remove any bits.

In a clean mixing bowl, whisk together strawberry purée with cream, milk, milk powder and sugar and a pinch of salt until fully combined. Add a squeeze of lemon juice if too sweet.

Add the ice cream base to your machine and churn as per manufacturer's instructions. Towards the end of churning, you can toss in some extra strawberries chopped finely if you enjoy some strawberry bits.

When the churning is complete, scoop into a container and freeze for three hours until hardened.
Video