55 Best Ice Cream Recipes In 2023
Nice work! You've just discovered my best ice cream recipes all on one page.
Making homemade ice cream is a lot easier than you may think. Unlike the supermarket bought ice cream tubs, the recipes on this page require very few ingredients. If you have cream, milk, sugar and some eggs you're almost ready to go.

If you don't have an ice cream maker follow these steps
Make the ice cream base then add it straight to the freezer.
As it hardens, remove from the freezer and whisk or beat until it's nice and smooth.
Return to the freezer and repeat step two every 15 minutes until it's too hard to beat.
Allow to freeze until hard.
Expert Tip: When removing the ice cream from the freezer to whisk it you'll need to work fast. If the ice cream starts to melt you'll create larger ice crystals which leads to icy ice cream.
Before you start making your first ice cream I'd urge you to check out my tips for making the ultimate ice cream.

Let's start with a collection of recipes that will please even the fussiest eater.
Classic flavours
These flavours have stood the test of time and never seem to go out of fashion. Picture chocolate, strawberry, vanilla bean or mint chocolate chip.
I think these are good options for families with kids as everyone loves a creamy chocolate or vanilla ice cream.
#1 Strawberry Ice Cream
An amazing creamy recipe that uses one of earth's great ingredients, strawberries!
To bring out the best in your ice cream, use fresh, ripe strawberries dripping with juice and packed with flavour. You can add big chunks but I recommend blending your strawberries into a pulp. Pieces of strawberry can be quite icy.
#2 Cookies and Cream Ice Cream
This cookies and cream ice-cream is a little beauty and one of my favourites. I'm sure it will be popular with readers here too
Add massive chunks of oreo cookies at the end of churning to create an ultra delicious ice cream.
If you're feeling creative, bake your own cookies or simply buy a pack of cream filled biscuits. Either way, this is an ice cream everyone will enjoy.
#3 Lemon Ice Cream
A lemon ice cream that's an amazing mix of tangy lemon and sweet creamy ice cream.
Use fresh lemons rather than the juice that comes in a bottle. This fruit is available almost all year around so there's no excuse for not using fresh lemons.
When you make this ice cream you have the option to leave the lemon zest in the ice cream during churning for a bit of texture. If you prefer it smooth, use a strainer and remove it prior to churning.
#4 Rum and Raisin Ice Cream
This one's for the adults.
Rum pairs beautifully with dairy products and the raisins finish off a great dessert. If you are making it for kids, consider using rum flavouring. However, the best option is good quality rum as it reduces the freezing point of the ice cream and results in a very creamy texture.
Be sure to check out my beer ice cream further down this page if you enjoy ice cream with booze added.
#5 Peanut Butter and Pretzel Ice Cream
This flavour is offered by a big brand here in Australia. The problem is, pretzels don't last particularly well in ice cream for months before you finally buy it from the store. This version offers you the yummy saltiness of the pretzels and the best part is, they're lovely and fresh.
Take this ice cream to another level by stuffing it into a brioche bun and adding chocolate sauce. Sounds average – tastes incredible.
#6 Ice Cream Sandwiches
I haven't met anyone that doesn't enjoy an ice cream sandwich. They're popular with all ages and can range from very basic through to elaborate ice cream sandwiches using homemade biscuits that are crying out to be eaten.
#7 Chocolate Ice Cream
We included two chocolate ice creams in our list. Let's face it, this flavour is pretty damn popular so two seemed appropriate. This is a less creamy alternative to the one listed above. Use a good quality cocoa without all the added sugar and extras. It really helps the flavour shine through.
#8 Mint Choc Chip Ice Cream
The secret to the ultimate mint choc chip ice cream is using fresh mint and a high quality dark chocolate. Get those ingredients right and you'll have a mega tasty ice cream.
#9 Vanilla Bean Ice Cream
The flavour profile of vanilla bean isn't for everyone. But if you enjoy it, you need to make this ice cream.
If you're on a budget, consider using vanilla bean that comes in those grinder bottles. You twist the top like a pepper grinder and the vanilla flakes come out the bottom. They're in most supermarkets in the baking section.
#10 Coffee Ice Cream
Coffee lovers will rejoice at this ice cream made with coffee, dairy, and not much else. Use a quality coffee for a delicious final product.
#11 Salted Caramel Ice Cream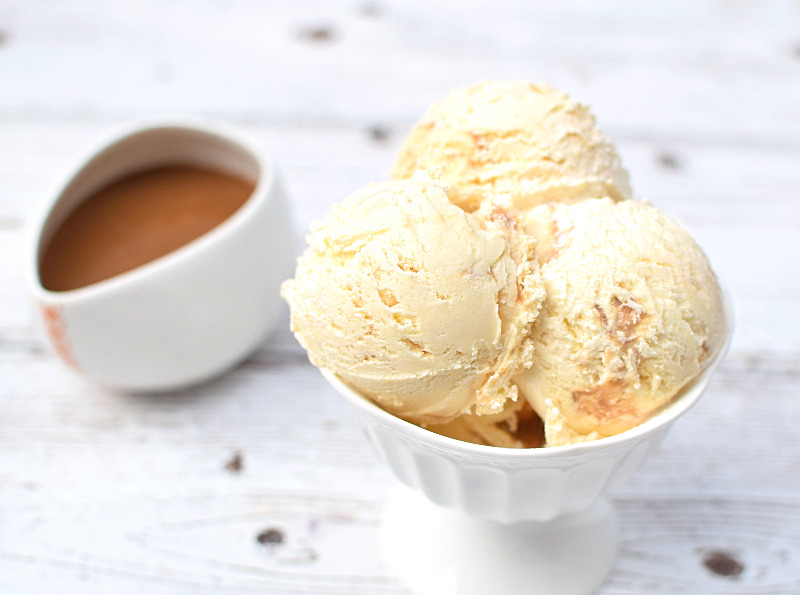 Saltiness and sweetness are a match made in heaven when it comes to food pairing. This ice cream is very moreish! Avoid cheap salt like the plague here. A fleur de sel or Himalayan pink salt will create a better tasting salted caramel.
#12 Peanut Butter Ice Cream
Peanut butter lovers rejoice! This flavor is so simple but it has to be tried if you enjoy ice cream and peanut butter.
#13 Philadelphia Ice Cream
This is my go-to option for a simple vanilla ice cream recipe. It doesn't use eggs which means there's no heating or tempering involved.
You can simply whisk a few ingredients and add to your ice cream machine.
---
Fruit based flavours
For those of you feeling a little guilty about your ice cream intake, here's the solution. Add fruit. Not only are you getting a nice dose of calcium from the dairy, you're also getting vitamins, minerals and fibre from the lovely fresh fruit you've added.
#14 Mango Ice Cream
Mango is one of the best fruits ever invented. It makes for a refreshing, creamy ice cream. Mangoes can be expensive so make this recipe when there's a glut of mangoes on the market and they're practically giving them away.
#15 Raspberry Ice Cream
Raspberries rule. See the above comment on mango ice cream and apply the same advice to this flavor.
#16 Blueberry Ice Cream
Blueberries also rule. Throughout the year in Australia they seem to have nice little deals if you buy two punnets so make the most of these and get busy making this ice cream.
#17 Apple Crumble Ice Cream
The combo of apple, creamy ice cream and the chunks of crumble really do make for a classic dessert. I highly recommend trying this one.
#18 Pear Ice Cream
This decadent recipe pairs the complex flavour profile of vanilla bean with roasted pear.
Roasting fruit is a handy trick when making ice cream. The reason: it reduces the water content which should be avoided. Water turns to ice and no-one likes that in ice cream!
#19 Banana Ice Cream
This fruit can be a divisive one but for all the banana fans, give this dessert a try.
#20 Feijoa Ice Cream
Feijoas? What are they?!
This little known fruit is a nutritional powerhouse that tastes sweet and tasty. The grow like weeds in some countries but in Australia not so much.
Keep an eye out in the supermarket or green grocers for these small, oval dark green fruit and when the price is right, buy some. They make a really good ice cream or sorbet.
#21 Blueberry Cheesecake Ice Cream
---
Adventurous flavours
Ready to take your ice cream to a different place? This selection will help you do that. They may be uncommon flavours, but they'll create a symphony in your mouth. Exciting combinations of ingredients that will surprise you at how good they taste. Your mind will say no, your palette will say give me more!
#22 Beer Ice Cream
Beer and ice cream are both pretty awesome on their own. Combine them and you have some kind of superfood that is very hard to eat in moderation.
This option uses black beer but any IPA, ale, lager or stout will do equally as well.
#23 Chocolate Chilli Mezcal Ice Cream
Mezcal is similar to tequila and acts as an excellent stabiliser for your ice cream. The flavour accompanies the chocolate so well. Making the ice cream only requires a small amount of Mezcal. The remainder can be used for other fun activities, like Mezcal laybacks!
#24 Chilli Mint Ice Cream
This is a strange combination because you initially get hit with the cooling sensation of mint. Give it a few seconds and the heat from the chilli starts to take control. Be warned, go easy on the chilli and choose a very mild variety. You don't want the chilli to overpower the flavour profile.
#25 Matcha Ice Cream
Another divisive flavour that some will loathe. Matcha powder provides a subtle, earthy flavour that is a good friend to ice cream. That is, if you enjoy matcha!
#26 Kulfi
Kulfi is everywhere in India and I know why. It is a really refreshing, icy type of dessert on a stick. I made this one on a hot 40 degree Australian day and it went down a treat.
#27 Turmeric Ice Cream
Another wacky sounding flavour that will surprise you. Probably not one for the kids or those that don't like turmeric. For the rest of us, it's well worth a try.
#28 Lavender Ice Cream
I wasn't a big fan of this ice cream. It reminded me of an old room in my nana's old house. But lavender lovers will enjoy this. Just go easy on the lavender; a little goes a long way here.
#29 Olive Oil Ice Cream
I have made many ice creams in my time. This was one of those shocks that makes your day. A subtle ice cream flavour which is actually very good.
Use a good quality oil here as the quality of the oil has nowhere to hide.
#30 Miso Caramel Ice Cream
The miso offers an element of saltiness which I think you'll enjoy. It's similar to salted caramel ice cream.
#31 Bacon Ice Cream
I created this recipe during the bacon fad that was going down a year or so back. One thing I am learning is that practically all salty add-ins go brilliantly in sweet ice cream. This is no exception.
#32 Five spice ice cream
Try saying the name of this ice cream 20 times. The kicker in this recipe is the Szechuan spice which is mostly used in Chinese savoury dishes. Now there's another use for it and this is the recipe below.
---
Sorbet and Granita Recipes
Amazing in summer, these cool and refreshing sorbet and granita recipes are so good. A healthier alternative for kids than the store bought alternatives and a winning dessert at your next summer barbecue. Make use of all that fresh summer fruit and create your next dessert that's really simple to make.
#33 Raspberry Sorbet
Like all the sorbet recipes listed here, they are super refreshing and really easy to make. Remember to follow the ingredient quantities closely as too much water, raspberries or sugar can really affect the texture. There's nothing worse than hard over-icy sorbet.
#34 Mango sorbet
Buy the mangoes in season when there cheap or it'll cost you a small fortune to make. You can also choose frozen mangoes but the final product won't be a tasty.
#35 Plum sorbet
A dark and mysterious sorbet that seems to play second fiddle to other more popular sorbets like mango and lemon. Trust me, this sorbet should not be missed.
#36 Watermelon Sorbet
Kids love a big hunk of watermelon in summer. For something different, make this watermelon sorbet that they'll thank you for more than once. It's so refreshing and you can pull it out next adults party you have and add it to vodka!
#37 Lemon sorbet
A classic sorbet found in almost every gelato store in Australia. Very handy if you have some old lemons lying around the kitchen.
#38 Persimmon Sorbet
This is another fruit that isn't hugely popular. It does make an okay sorbet though. I prefer the sorbet to eating the actual fruit.
---
Vegan ice cream
This list of vegan recipes is a bit underwhelming at this stage so a quick apology to all our vegan readers. We will try to build on this list in the future. For now, have a try at making this chocolate ice cream is super tasty, as well as a healthier alternative with less fat than the dairy alternative.
#39 Vegan Chocolate Ice Cream
If you've made the choice to steer away from any animal related products then this is a good dessert you can make fast. Although it doesn't quite offer the same creaminess as the dairy alternative, it still tasted pretty good.
---
Savoury flavours
What the? Savoury ice cream? Yes, there is such a thing. Our savoury ice cream recipes are tame compared to some. We have heard of lobster ice cream, garlic ice cream and even horsemeat ice cream which is made in Japan. These seem so wrong and we won't be testing them out in the future. How does one even get hold of horse meat?
#40 Corn Ice Cream
Sounds bad. Tastes good. And who's going to complain about getting some vegetables into their diet by consuming pudding.
#41 Pumpkin Ice Cream
A traditional ingredient for Autumn, or Fall if you're in the US. Pumpkin is actually available in most places all year around and for a great price. It makes a superb pie, and ice cream is another dessert you can now add to the list.
#42 Coriander Ice Cream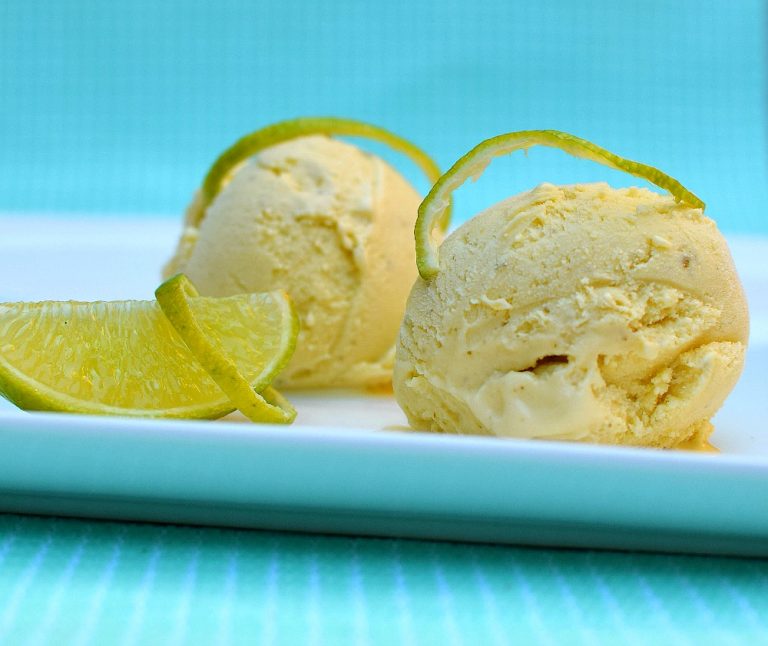 People are quite divided on coriander. Some hate it but for all the rest of you, you'll love this. The coriander pairs well with lime juice, but use it sparingly. I recommend slowly adding a dash of lime and testing before adding any more. You want to avoid a flavour that is dominated by sour lime juice.
---
Even more recipes
These last recipes didn't really fit into the above categories so we added them here. Enjoy!
#43 Honey Caramel Ice Cream
Caramel. Honey. What's not to like about this recipe?
#44 Hokey Pokey Ice Cream
A classic heralding from New Zealand, this is a vanilla ice cream with honeycomb pieces in it.
#45 Popping Candy Ice Cream
Another one the kids will love. Simple yet perfect for your next kids party.
#46 Goat Cheese and Honey Ice Cream
Goat cheese can be mighty expensive so don't get the recipe wrong or you'll be cursing me! If you give this a try, you'll find the flavour of the goat cheese gives a nice change to cow milk and the honey tops off a beautiful ice cream.
#47 Lamington Ice Cream Bars
There's fun written all over these. Lamingtons are so popular in Australia and New Zealand so I recreated them as an ice cream. Invest in good quality chocolate to melt down into liquid goodness.
#48 Blue Moon Ice Cream
Not so popular in Australia but more so in Asia and the USA I've been told. I wasn't sold on this recipe so if anyone has a better one please share with me! I'm sure the colour would be popular with children though.
#49 Maple Ice Cream
This is for all those Canadian readers to my website. Maple syrup is such a versatile ingredient and this is another great use for it. I'd eat this for breakfast, lunch and dinner if I was allowed.
#50 Butter Pecan Ice Cream
Cooking pecans in butter produces a really nice add-in for ice cream. If I made this recipe again, I'd chop the nuts up as they were too big.
Alcohol Based Flavours
#51 Red Wine Sorbet
Eat it as a sorbet or let it melt a little and have a wine slushie. Each bowl seems to get better and better…
#52 Pina Colada Sorbet
Just like the cocktail, only a little better.
#53 Aperol and Grapefruit Granita
This is the only granita recipe I've included in this list so enjoy. When I last travelled to Sicily they'd eat granitas for breakfast which I thought was pretty awesome. Like sorbet, granitas are very simple to make.
#54 Tempered Chocolate Recipe
So this isn't strictly an ice cream recipe but chocolate is such a great accompaniment I wanted to include it. Tempered chocolate looks really cool on the dessert plate and it's not too hard to make. Try it out next time you have guests and they'll be impressed if you've done it right.
#55 Berry Compote
Berry compotes work beautifully in ice cream so here's a simple berry compote recipe which you can use for whatever fruit you have at your disposal.